May 7, 2011
Buy the new CD now, right here!!
May 4, 2011
Thanks to all who came out to the Glasshouse last weekend and supported Steve Ignorant and all of the other great bands that played. If you happened to miss us becuase you were at the first Steve Ignorant show then we have great news! It's also great news for all of our fans....We will be having our CD release show at the Glasshouse in Pomona, CA on Friday, May 20. The show is a part of the Citizen Fish, Krum Bums, and Apathy Cycle tour. We will play second, but the first 50 people who come to our merch table will get the new CD for FREE! However, the cut off will happen before our set so get there early.
April 25, 2011
We look forward to seeing you next Saturday, April 30th at the Glasshouse with Steve Ignorant Presents The Last Supper, CRASS Songs 1977-1984!!! Tickets are still available through the Glasshouse and Headline Records. The new cd split featuring All or Nothing H.C. and Naked Aggression, "Bring Me the Head of...," will be available in May 2011 on On the Rag Records, and the vinyl version will be available in June 2011 through Emancypunx Records (www.emancypunx.com).
March 12, 2011:
The Steve Ignorant presents "The Last Supper Tour" Crass songs, has been moved from March 19 to April 30. The show is still at the Glasshouse.
March 4, 2011:
Summer European Tour Dates now posted! Here they are:
JUNE 7 TUESDAY / GERMANY ??????????????????????
JUNE-8- WEDNESDAY / GERMANY, Dresden-Chemiefabrik
JUNE-9- THURSDAY / GERMANY, Berlin-Köpi
JUNE-10- FRIDAY / DENMARK, Copenhagen-Copenhagen Punk and Hardcore Festival 2011
JUNE-11- SATURDAY / SWEDEN, Munkedal-Pre Punk Illegal Night-
JUNE-12- SUNDAY / DENMARK, Aalborg-1000 Fryd-
JUNE-13- MONDAY / GERMANY, Hamburg-Hafenklang
JUNE 14 TUESDAY / POLAND, Gdansk – venue TBA
JUNE 15 WEDNESDAY / POLAND ????????????????????????
JUNE 16 THURSDAY / POLAND, Ruda Slazka – venue TBA
JUNE 17 FRIDAY / POLAND, Nowy Sacz – venue TBA
JUNE 18 SATURDAY / SLOVAKIA, Cadca - Ruda Slazkal
JUNE 19 SUNDAY / POLAND, Zdunska Wola – Variete
JUNE 20 MONDAY / CZECH, Prag – 007
JUNE 21 TUESDAY / GERMANY ?????????????????????
JUNE 22 WEDNESDAY / GERMANY, Finsterwalde - L´86
JUNE 23 THURSDAY / GERMANY/AUSTRIA/CZECH ??????????????????
JUNE 24 FRIDAY / AUSTRIA, Wien – Ekh Hoffest
JUNE 25 SATURDAY / GERMANY ?????????????????????
JUNE 26 SUNDAY / FRANCE , Nancy – Soap Box
JUNE 27 MONDAY / GERMANY, Giessen – ak44
JUNE 28 TUESDAY / GERMANY, Hannover – TBC
February 18, 2011:
Our new split with Naked Aggression will be coming out this Spring. 8 new songs from each band! Also, we posted the flyer for our next show below.
February 15, 2011
We have just added a new show. Here are the details:
Saturday, March 19 @ the Glasshouse in Pomona, CA w/ Steve Ignorant presents Crass songs. Tickets are on sale on Friday 2/18 for $20. The show is all ages and doors are at 7pm. Hope to see you there!
December 25, 2010
Long time, no update...this poor all or nothing hc site sometimes gets forgotten about with MySpace, Faccebook, Twiiter, and You Tube. We will try to make sure to keep this absolutely up to date.
As of right now the biggest news is the both Naked Aggression and us have completed recording the songs for our upcoming split LP. The plan is that it will be be released digitally and there will be a limited editon vinyl pressing of only 500...again that's the plan for now and it can always change. We are still in the process of mixing the songs and then it will be mastered. It looks like you can expect 8 new songs from each band.
We also have a show coming up in late January in Temecula, Ca at the Vault. It is a great line up that includes both Naked Aggression and the Angry Samoans. We will also be playing some LP release shows with NA when the albums comes out.
April 30, 2010
New shows have been added for the month of May. We will be playing all over California so see if you can make it out to one of the dates. We are also excited to announce that we are currently working on a split LP with Naked Aggression which will be out later this year on Rodent Popsicle Records. Hope to see you at the shows!
March 29, 2010
Here is the information for the FREE ALL AGES show on Sunday, April 11.
March 15, 2010
We are heading out on our short West Coast tour in a few days and we are very excited to be returning to some cities that we have not been to in almost three years. Below are flyers for some of the shows!
We are also going to be playing a FREE show in Riverside, CA on Sunday, April 11 @ Electric Chair!! It will be a matinee show from 12pm-5pm. More info will be posted soon!
For the most updated information please check out our shows/tour page. Thanks, and we hope to see you at the shows!
February 9, 2010,
First of all, we would like to thank all the people that came out to the Riff Haus in Fullerton, CA on Friday in the rain. Shows are always hit or miss when it rains here in southern California, but this turned out to be great. Naked Aggression was amazing as usual, as were all the bands; A Pretty Mess, Evacuate, and Putrid Feedback. Hopefully we can continue to do shows there, it is a great little place. Special thanks goes to Leo for putting the show together.
We just added a new show today and we are very excited about it!! We will be playing Saturday, February 27 at the Glasshouse in Pomona, CA with Ignite, Death By Stereo, and Rotting Out. We are the opening band, which means you need to get there early if you want to see us. The doors open at 7pm and we probably will be going on not too much later than that. Please spread the word and copy and paste the flyer below all over the Internet...the show is only 2 1/2 weeks away. Hope to see you there.
January 18, 2010
We will be playing in Fullerton,CA on February 5 at the Riff Haus with Naked Aggression, A Pretty Mess, Evacuate, and Putrid Feedback. The Riff Haus is a rehersal studio with a big enough area to do shows so lets hope it stays open for a long time.
In addition to the local show, we will be heading out on a short West Coast tour at the end of March. Check the shows page for more updated information (right now we have a lot of shows that are tentative so we won't put them up until they are confirme). Here is the basic rundown though;
3/20 ....Fresno, CA
3/21 ... Sacramento, CA
3/22 ... Santa Cruz, CA
3/23 ... Chico, CA
3/24 ... Portland, OR
3/25 ... Twin Falls, ID
3/26 ... Bountiful, UT

December 6, 2009
We are looking forward to our first local shows since September coming up in a few weeks. However, we are currently in the process of looking for a new permanent drummer. If you are interested or know of someone interested in playing with us please email us at aonhc@earthlink.net. You must have experience in playing in bands, be able to practice and play shows regularly, and be able to do some touring. While we are looking for a new drummer we will still be playing shows as we do have a great fill in. Thanks!
-Renae and aonhc
November 19, 2009
Once again, we apologize to all of our European friends that we were looking forward to seeing and were looking forward to seeing us in November. As many of you know, we found out the Tuesday, before we were to leave on that Friday, that Timo, Alerta Anti-fascista did not have a van nor a driver for us. With only three days notice, it was not enough time to find another driver to drive us for the entire three weeks. In a strange turn of events, our drummer actually had an ear infection that week, so he was able to secure a doctor's not attesting to the condition. That meant that we were able to work on getting our airfare back. Although we would have much rather been in Europe, we would not have wanted Eli's eardrum to "explode" or anything crazy like that. At this point we are chopping it up to bad luck and leaving it at that. We are hoping to tour in Europe in 2010.
Since we are home, we are working on booking shows for the remainder of the year and into 2010. We are also sad to announce that Eli DeLuna can no longer play drums for us as he is going back to school full time and working full time. We have great memories with him and are sad to see him go. Lucky for us, Ryan knew a drummer and a second guitarist from a band that had broken up, Jerez. So, you can see us with Jorge Lopez on drums and Mike Shaffer on rhythm guitar as they fill in until we get a permanent member.
Our next show will be at Joey's BBQ in Pomona (across from Angelo's Pizza) with BLACK FAG. It will be a canned food drive, so please bring the goods. Our next scheduled show after that is Jan. 9th at Civil Ground in Chino, with Horror Squad.
October 2, 2009
The show on Sunday, October 4 has been cancelled by the venue. The promoter is working on a make-up date. Sorry for any inconveince this may cause. We still have one reminaing local show scheduled before our European Tour. Hope to see you there!
Sat., Oct. 17, 2009
Outrank
A Sudden Tragedy
The Convicts
All or Nothing HC
Countime
Heavy Hitters
@ The Parking Lot
1971 New Jersey St.
Los Angeles, Ca 90033
all ages; $3; 7:30 p.m.
All or Nothing HC European Tour 11/7-11/28
booked by Alerta-Antifascista
www.myspace.com/alerta-antifascista
or www.no-pasaran.org
See you in the pit!
-all or nothing hc
September 19, 2009
We are excited to play a few shows in Southern California before leaving for Europe in early November! Here is the list of our local shows, so far:
Sat., Sept. 26, 2009
All or Nothing HC
Horror Squad
Duralix
@ Civil Ground Warehouse
13390 12th St.
Chino, CA
all ages; $5 donation; 7p.m.
Sun., Oct. 4, 2009
Narcoleptic Youth
All or Nothing HC
Godzilla
The Pubic Zarconians
Horror Squad
@ Trevi Entertainment Center
32250 Mission Trail
Lake Elsinore, CA
all ages; $11; early show 5 p.m.
Sat., Oct. 17, 2009
Outrank
A Sudden Tragedy
The Convicts
All or Nothing HC
Countime
Heavy Hitters
@ The Parking Lot
1971 New Jersey St.
Los Angeles, Ca 90033
all ages; $3; 7:30 p.m.
All or Nothing HC European Tour 11/7-11/28
booked by Alerta-Antifascista
www.myspace.com/alerta-antifascista
or www.no-pasaran.org
See you in the pit!
-all or nothing hc
July 29, 2009
July 10, 2009
We have just been added to a show at Chain Reaction on Monday, July 13. Sorry it is such short notice but please try to come out and support the show. We have not played at Chain in a few years and they do not have many punk shows. For those of you that don't know, it is all ages and a great venue. The flyer is below. Please help us spread the word and we hope to see you there!
July 5, 2009
Here is the latest in all or nothing hc news:
1) We have posted some pictures from the Vice Squad show,you can see them on our myspace page...thanks to Mig,www.myspace.com/smigmaproductions; more pictures will follow...
2) At the Vice Squad show we were interviewed by Jack from www.punkrockdemo.com. If you haven't checked out his punk rock internet radio site, please do. Our interview aired on June 29th (when we were in NY). Jack said he will post it soon, so keep a look out. We'll let you know when it's posted. For now enjoy all the other cool stuff he has on his site.
3) So far, our next show will be Lady Fest IE at Pharaoh's Den (next to Back to the Grind in Riverside) on Sunday, Aug. 2, 2009. There will be workshops during the day and in the evening the bands will play. Bands booked are: aonhc, Bruise Violet (LA), Sick Fix (DC), Coke Bust (DC), & Tuberculosis (LA).
4) Big Wheel Magazine did a great feature on the Vice Squad show at www.bigwheelmagazine.com
5) You can now get All or Nothing H.C. updates from facebook and twitter. Just click on the link below!
See you in the pit!
-all or nothing hc
June 6, 2009
So it has been a while since we have updated this site. We had a computer problem and are still getting used to the new program for our website. Anyway, our MySpace page has been kept up to date so hopefully you've been getting any information from there. Our Spring 2009 Tour was excellent, probably the best one we have had in the U.S. Speaking of tour, we will be returning to Europe in November. Timo from Alerta Antifascista is booking it for us again and we are very excited to get back across the Atlantic. I am not sure about the exact route of the tour but keep posted as we will put up that information as soon as we get it. If you are interested in helping out with a show, please contact Timo at timo@alerta-tours.de.
In other news, we are playing June 19 at the Glass House in Pomona, CA. We are very excited and honored to be a part of this show. First off the line up is amazing...Vice Squad, Lower Class Brats, Narcoleptic Youth, aonhc, and Urban Decay. Second, this is one of the first punk shows at the Glass House in the past few years. Please do your part to nake sure there are no problems because this is a great venue and we have already lost too many of those. Also, please buy your tickets asap. Get them from the Glass House ticket office, the Glass House Record store (next to the venue), or at ticketmaster. Again, please buy your tickets before the show and get there early. We are playing second, but you don't want to miss any band on this show.
March 19, 2009
Thanks to everyone who came out to support the CD release show on Friday night. Disaster Strikes (MA) had a great time, so thanks again for showing love for another touring band.
Food Not Bombs was able to leave with some donations of food and money, so that was great. If you forgot your can of food, you can always show up on a Saturday to volunteer for them or support them:
www.myspace.com/riversidefnb
www.myspace.com/coronafnb.
The show was problem free (except for the sprinklers going on unexpectedly), so thanks to everyone for respecting the event. The good news is that since the cops did not have to come out, the Electric Chair can do more events in the future.
Once again we would like to thank the Electric Chair, Food Not Bombs, Cosmic Creeps, Disaster Strikes, and everyone that made their way out to the show. It really was super fun.
We leave for our South/East Coast tour tomorrow. Our next local show is Friday, April 10 w/ Funeral Dress, Slow Children, For Fuck Sake and more at Q Bonkers in Riverside. Check the myspace for blogs on our tour.
See you in the pit!
-Renae
P.S. There are now a number of different places to get the new CD, or mp3's. We have filled all of the orders for those who have ordered directly from us, but since we will be on tour we will not be able to get to new orders for a while so please order from one of the reputable online shops listed below. If you really want to get downloads of the album, it is now available at:
iTunes, Rhapsody, Amazon, Napster, Spotify, and Tradebit.You can also click below to buy the CD directly from Interpunk or CD Baby. You can also download the whole album at a reduced cost from CD Baby.
Thanks again for all of your support and please check the shows page for updated show/tour information.


OR YOU CAN DOWNLOAD ANY FULL ALBUM BELOW!!



March 2, 2009
We are very happy to announce that we now have the new album and you can purchase it directly from us. It will be available in stores, and digitially in the coming weeks, but you can it from us right now!!
OUT NOW!!!! : ALL OR NOTHING HC "California Bleeding" - CD Only OTR 009
February 21, 2009
We are very regretful to have to cancel both the Gilman and Chico shows this coming weekend. Eli fell off of a ladder and suffered a severe wrist sprain. The only show we will play this week will be the Take Back the Night event at CSUN, because Alex (drummer of Terezodu) is going to fill in. Renae will be speaking at the Take Back the Night event from 6:30 p.m. All or Nothing HC will be performing a very special five song set, starting at 6:40 p.m. This is a very important FREE event. If you are able to travel to Northridge, please join us.
Our new album, "California Bleeding" will be out on March 13! We will be playing a FREE CD release show at Electric Chair in Riverside that day. It is all ages and will be an early show from 5pm-8:30pm.
January 11, 2009
Happy New Year to everyone, we hope this news update finds you and yours healthy and happy in the New Year. As always we wish everyone happiness, success, love, and good health for 2009. In 2009 may we all work toward "food for the hungry and a hunger for justice for those that have food."
We have a lot of all or nothing hc news so please read all the way to the bottom:
We are recording our new full length next weekend with Paul Miner (www.paulminer.com or www.myspace.com/buzzbombsoundlabs ). We just got the cover art back from our tattoo artist Billy Barnett (www.454tattoo.com), and it looks fucking amazing. I know those are over used words, but they apply to this art.
We are playing a few shows before heading off on tour on March 20, 2009:
Sat. 1/24/09 LadyFest LA (Free Show)
Featuring workshops, Food Not Bombs, live music & more
Starts 12 p.m.
Bands: Swing Hailey, Condenada (Chicago), Bruise Violet, Potential Lunatics, Love Grenades, & all or nothing hc
@ Chuco's Justice Center
1137 E. Redondo
Inglewood, CA 90302
Sun. 1/25/09 Iron Maidens Show (all fem. Frntd. Bands)
$5; all ages; bar w/ ID; 6 p.m. doors
Bands: All Out Attak, all or nothing hc, Watch Me Burn, Eat the Living, & Psycotic Scum
@ Angelo's Pizza
135 E. 2nd St.
Pomona, CA
(*if you are there to see aonhc, specifically say so at the door…)
Fri. 2/06/09
$8; all ages; 7 p.m. doors
Bands: Career Soldiers, All or Nothing HC, Homesick Abortions, Sayaka, Las Sangronas y El Cabron
@ Back to the Grind
3575 University Ave.
Riverside, CA
Fri. 2/27/09
$8; all ages; 7:30 p.m. doors
Bands: Dcoi!, All or Nothing HC, For the Win, Violation, Wolves and Thieves
@ 924 Gilman
924 Gilman St.
Berkeley, CA
Fri. 2/28/09
$5; all ages; 7 p.m. doors
Bands: All or Nothing HC, more tba
@ Monstros Pizza
628 W. Sacramento Ave.
Chico, CA
Fri. 3/13/09 ALL OR NOTHING HC CD RELEASE PARTY!!!
$5; all ages; 7 p.m. doors - First 30 people will get our new album for FREE!!!
Bands: All or Nothing HC, Disaster Strikes (MA), Bruise Violet
@ Back to the Grind
3575 University Ave.
Riverside, CA
3/20/09 - 4/05/09 Spring Tour
3/20/09 - Phoenix, AZ
3/21/09 - El Paso, TX @ Chic's Cantina
3/22/09 - TBA
3/23/09 - Knoxville, TN @ Dishaus
3/24/09 - Columbus, OH @ Bernie's Distillery
3/25/09 - Buffalo, NY @ Sugar City
3/26/09 - Providence, RI @ TBA
3/27/09 - Boston, MA @ Midway Cafe
3/28/09 - Hartford, CT @ Whitney House
3/29/09 - Dover, NH @ The Brickhouse
3/30/09 - Baltimore, MD @ The Sidebar Tavern
3/31/09 - TBA
4/01/09 - Washington, D.C. @ TBA
4/02/09 - Lemoyne, PA @ Championship
4/03/09 - TBA
4/04/09 - New York, NY @ ABC No Rio
4/05/09 - Indianapolis, IN @ TBA
All or Nothing HC has licensed three songs for use in a very special documentary:
Vicktory to the Underdog: To Hell and Back; This documentary features the pit bull rescue efforts of Georgia's all or nothing tattoo owner, Brandon Bond; as well as chronicling the efforts to save the pit bulls that were tortured by Michael Vick and his buddies. The documentary also serves to educate people in pit bull's true demeanor (which is not mean). To find out more about the documentary go to http://www.strangleholdmerch.com/vicktory-to-the-underdog-p-191. html

In aonhc related news…for the second time this year one of the incredible photos Justice Howard (www.myspace.com/justicehoward or www.justicehoward.com ) took of Renae (singer aonhc) was printed in Savage Tattoo magazine. The photo first appeared in issue 94 p.45. It appeared a second time in the Savage Attitudes favorite photos supplemental magazine (that you can only get if you buy it off the news stand or bookshop…not available with your subscription) with the January 2009 #97 issue (with Daisy De La Hoya on the cover).
Finally….Jen Ramirez, Lisa Bouris and Renae Bryant are bringing ontherag back from the dead, electronic zombie style. ON THE RAG ZINE was published as a hard copy zine from 1994-1998, it featured many bands as they were just starting out like AFI, VoodooGlowSkulls, The Bellrays, etc. and many more that have long broke up like Snap-Her, Tilt, The Red Aunts, The Lunachics & more.

We decided to reanimate it in e-zine style, so we can feature the underground/punk/hardcore and even some mainstream bands, artists, books, movies, etc. that we love.
If you think you have a live review, cd review, book review, movie review, or an interview that you would like to submit please email your submission to otrzine@earthlink.net in the subject line please write "ontherag zine submission".
We plan to re-launch the zine/site in the middle of January.
Thanks for reading all of this!
In Solidarity,
all or nothing hc
November 23, 2008

We are happy to announce that we will be recording again with Paul Miner at his new studio in January 2009. You can check out his new digs at www.paulminer.com and www.myspace.com/buzzbombsoundlabs. He did an excellent job with our songs from "All of These are Days of the Dead." We are excited to record our new songs with him.
We will be supporting the new release with a partial U.S. tour from March 20-April 6, 2009. If you are in the south or the east coast and want to help out in any way, just email us aonhc@earthlink.net . We are a d.i.y. band and still rely on the kindness of friends (current and future).
Finally, Renae Bryant (singer of aonhc) will be speaking on Women's Human Rights on Thurs. Dec. 10th, as a part of International Human Right's Day. The event is put on by Randall Lopez and IEHC. Here are the details:
Inland Empire Human Rights Coalition presents a Human Rights Awareness teach-in forum at Starbucks in Grand Terrace, located at 22488 Barton Rd. Wednesday, Dec. 10, from 7:00-8:00 PM. FREE. ALL AGES.

Dec. 10, 2008, is International Day of Human Rights Awareness. 2008 is the 60th anniversary of the Universal Declaration of Human Rights. To commemorate both of these events, IEHRC is organizing a human-rights awareness teach-in and discussion forum at Starbucks (on the corner of Barton Rd. and Mt. Vernon Ave.) in Grand Terrace.

Scheduled lectures include: "Religion and Human Rights," by The Reverend Jonathon Edwards, Pastor, Ontario United Church of Christ; and "Women and Human Rights," by Renae Bryant, feminist writer and performer as well as owner of On The Rag Records. Also scheduled are lecture presentations by Amnesty International and other local human rights organizations.

Starbucks is NOT sponsoring this forum--we are just meeting there. Organizers ask that all who attend this forum make a small donation to Starbucks-supported human-rights charities or causes and/or buy some Starbucks product.

Other Dec. 10 coordinated action: day without a gay, spend gay for a day, walk against h8, and more. Check for more details and events at www.myspace.com/inlandempirehardcore


November 2, 2008
The Propositions:
We wanted to come out publicly and voice our opinions on the Propositions on November's ballot. Although we would rather not have animals in cages, we do support allowing animals in cages to be able to stand up, turn around and spread their wings. We are against animal cruelty. As a result of this, we are voting Yes on Prop. 2. We also support a female's right to govern her own reproductive health. We support choice and teen safety. So we are voting No on Prop. 4. We support people's right to marriage. People should not try to legislate their own religious beliefs. Teachers do not teach about marriage in schools in California. We are voting No on Prop. 8. Check out www.ccaej.org for more their positions on the propositions.
All or Nothing HC Shows:
As we are writing new songs, we are going to be playing them at numerous shows all over California. Here is a quick list of our future shows. For more information on the shows, visit the show listings page.
Shows:
Thurs. 11/13/08 Angelo's Pizza, Pomona (Gonzo's Bday Bash) w/ Lower Class Brats
12/21/08 The Smell, Los Angeles (Downtown Women's Center Benefit Show)
Sat. 1/24/08 Lady Fest LA, venue tba
Fri. 2/27/09 924 Gilman, Berkeley
3/20/09-4/5/08 aonhc East Coast Tour
Sunday, September 14, 2008
On the Rag Records is having a sale on all of the music in the store section. All CD's are $5 or less and all vinyl, including the limited edition 7" "All of These are Days of the Dead" are only $3. Shipping is not included in these prices. In addition, with any purchase you will recieve a FREE copy of the "Don't F/ck With Her" 4 way split CD. This CD will no longer be available for purchase and once it is gone it will not be repressed. Only a limited amount remain.
In All or Nothing H.C. news we are happy to welcome our new drummer Eli to the band. We will be playing sporadic shows over the next few months as we are currently writing on a new full length. The album should be out by early March 2009, just in time for our next US tour. Be on the lookout for for the dates in the coming months. Thanks to everyone who came out to support the shows at the Electric Chair and Back to the Grind in Riverside. Both were a great success. We would also like to thank The Americans for setting up our show in San Diego last month. It was a blast as we had not played down there for over 3 years. We look forward to playing more shows with them in the future.
--------------------------------------------------------------
FREE SHOW!!!
Canned Food Collection & Yes on Prop. 2 Awareness Show
Friday, July 25, 2008; 5 p.m. to 8 p.m.
@ Electric Chair
10121 Hole Ave.
Riverside, CA 92503
(951)359-8003
Bands Performing:
All or Nothing HC
The Americans (San Diego).
Callista
This is a free show, however we are collecting canned food, peanut butter and jelly for the local pantries, for those in need in our community. Bring some food and singles for raffles and voluntary donations. Proposition 2 represents Californians for Humane Farming. This is a peaceful, drug free and alcohol free event with security. Please come with the right attitude to enjoy this free event.
-Renae Bryant
www.electricchair.com
www.humanecalifornia.org
www.myspace.com/callistarocks
www.myspace.com/theamericans
Monday, June 30, 2008
DJ Tina Bold of KUCR's The Vinyl Hours (www.kucr.org ; Thurs. 7-9 PM; www.vinylhoursradio.com ) named all or nothing hc as one of the "Ten Local Bands to Watch Out For" in this weeks issue of the IE Weekly. Pick it up locally or read the local music issue at www.ieweekly.com or www.myspace.com/ieweekly.
Justice Howard (www.justicehoward.com and www.myspace.com/justicehoward) just posted some of the photos from her Diva Doll photo shoots. You can view them at http://tattoohost.com/model/gallery10.htm .
----------------------------------------------
As sad as we are to lose the Showcase, we are just as excited to play there one last time:

Friday, April 18, 2008
Narcoleptic Youth
all or nothing hc
Decrats
Slow Children
& more TBA
Showcase Theatre
683 Main St. Corona
all ages

This is the first time that Narcoleptic Youth has played the Showcase in almost five years. This will be one to witness. We look forward to seeing you there. Tickets are available pre-sale for $10 at the box office. The night of the show it will be $12. We will send out updates as we find out any final details on the show.

See you in the pit!
Renae & all or nothing hc
www.allornothinghc.com
www.ontherag.net

January 30, 2008
We have updated both our myspace page and our website, www.allornothinghc.com, with a ton of new photos from our European tour. There are about 50 pictures in the myspace album and over 200 on our website. On our myspace site you will find our tour diary posted in our blog. We hope you enjoy all of it.

We have also put up live video of a couple of songs from our show in Prague, Czech Republic, and from the Frostpunx Picnic in Germany. They are located in the Media section and there will also be more live video coming soon.

Finally, we sold out of the limited edition 7" that we brought with us on tour. However, we still have some with us back here in the States, so if you are interested you can click on the link to buy it through us on PayPal. The 7" is titled "All of These are Days of the Dead" and it includes 6 new songs. Half of them are pressed on red vinyl and half are on red vinyl with a black splatter. Emancypunx in Poland and Alerta Antifascista in Germany also have, or will have soon, our new 7" in their distros.

Thanks for all of the support,
-All or Nothing HC
Happy holidays to you and your family. We hope the December 26, 2007 and new year bring you much happiness, good health, love and success.
We are playing one last show before leaving for Europe. We are playing Friday 12/28/08 at the Showcase Theatre with Conflict, Phobia, Anima Mundi, and Socialized Crucifixion. Come to the show super early at 7:30 p.m to see Socialized Crucifixion. We play right after them. We will have a limited number of our new 7 inch, All of These Are Days of the Dead, available at the show.
We leave on Jan. 1 for Germany. Feel free to visit our the myspace site, www.allornothinghc.com, or utube site for blogs, picture updates and video footage.
Here are our dates:
03.01.08 THURSDAY / GERMANY, Hannover -Sprengel w/ GUIDA [IT]
04.01.08 FRIDAY / GERMANY, Flensburg - Hafermarkt w/ FY FAN [SE] and WARDANCE + DISCO
05.01.08 SATURDAY / DENMARK, Aalborg - 1000 fryd w/ FY FAN [SE]
06.01.08 SUNDAY / GERMANY - TBA
07.01.08 MONDAY / GERMANY, Berlin - Koepi w/ PANDEMI [NOR]
08.01.08 TUESDAY / POLAND, Warszawa- U.F.A.
09.01.08 WEDNESDAY / POLAND, Olsztyn - Molotov Cafe
10.01.08 THURSDAY / POLAND, Krakow - Imbir
11.01.08 FRIDAY / POLAND, Czechowice-Dziedzice- Primus Pub
12.01.08 SATURDAY / CZECH, Roznow Pod Radhostem - Vrah
13.01.08 SUNDAY / CZECH, Prag - 007
14.01.08 MONDAY / GERMANY -TBA
15.01.08 TUESDAY / GERMANY, Eisenberg - Wasserturm w/ UNKIND [FIN]
16.01.08 WEDNESDAY / GERMANY, Leipzig - Zorro w/ UNKIND [FIN]
17.01.08 THURSDAY / GERMANY, Hamburg - Lobusch w/ UNKIND [FIN]
18.01.08 FRIDAY / GERMANY, Bremen - Magazinkeller w/ UNKIND [FIN]
19.01.08 SATURDAY | GERMANY, Muelheim - Frostpunx Picnic w/ UNKIND [FIN]
20.01.08 SUNDAY / GERMANY, Hannover
Please check out www.humanecalifornia.org to find out more about their campaign to create humane farming conditions and their petition drive. We've also updated both www.ontherag.net and www.allornothinghc.com .
See you in the pit!
-Renae Bryant & all or nothing hc
December 7, 2007
The dates for our European Tour are now listed in the Shows section. We are very excited to be heading to Europe for our first time. During the tour we will have a limited edtion 7" on red and red and black vinyl available. This is the only recording All or Nothing H.C. has on vinyl. It is called "All of These are Days of the Dead" and has 6 new songs.
We have also been added to the Conflict show at the Showcase Theatre on Friday, December 28. Phobia, Ruebella Ballet, Anima Mundi, and Socialized Crucifixion will also be playing. Hope to see you there!
One last thing, all of our music is now available (including the Don't F*ck With Her 4 way split) through the various digital download sights such as iTunes, Napster, etc. There are too many to list.
November 21, 2007
We just want to thank everyone who came out to the 2nd Annual Planned Parenthood Benefit Show. By supporting this show you helped to send teens to Sacramento to be able to advocate for themselves for Teen Lobby Day 2008. The show was a success, even though an ignorant group of anti-choice extremists protested and hurled insults at teens as they walked by, calling them "baby killers" etc. I want to commend all the teens at the show that ignored these people and did not engage them in the confrontation they so badly wanted.
Great thanks go out to Darren, Ms. Bean and Back to the Grind that consistently support benefit shows for excellent causes. Another round of thanks go out to Planned Parenthood, their security, Inland Empire Hardcore, Riverside Pride Youth Alliance, Center for Community Action and Environmental Justice and On the Rag Records that all supported this benefit show. Next, we must thank all the bands that donated their talent to this great cause: Ready Steady Go, Last Ditch Effort, Socialized Crucifixion, No Reform, Malice of Forethought and all or nothing hc. Finally, we can thank the Riverside Police Department for supporting the right to have a benefit show and the right of teens not to be tormented by protestors.
Please keep in mind that there is a faction of people in this country (not to mention our own city) who not only want to take away a woman's right to choose, but on their agenda is taking away access to any birth control. All over this country more and more pharmacies are refusing to fill prescriptions for birth control for unwed women and teens, forcing women to have children they might not be ready economically ready to support or worse forcing them to make hard decisions they wouldn't have to otherwise make. If you value the right to access birth control and to plan your parenthood then please actively support it. To find out more about this issue please visit: www.plannedparenthood.org , www.afj.org , www.naral.org , www.now.org , www.ppfa.org or www.feminist.org. You can also visit the Punk Planet website and find Daphne Adair's well written article on this topic in issue #71. Books on the topic are: The Health of Women: A Global Perspective By Marge Koblinsky, When Abortion Was a Crime By Leslie Regan, and A Question of Choice by Serah Weddington.
August 2007
We just wanted to let everyone know that all or nothing hc will be playing with Naked Aggression this Saturday, 9/1/07. It looks like Vice Squad couldn't make it, and we will happily play anytime with our friends in Naked Aggression and All Out Attak. What makes this show super excellent is that it just so happens that all the bands are actually female fronted. Come and spend the last weekend of summer with us! It will also be the first show with Tommy back playing drums, so come and welcome him back.
Here are the details: Sat. 9/1/07 Naked Aggression, All Out Attak, All or Nothing HC, Pissant, The Objex, & The Blood Clots @ Showcase Theatre 683 S. Main St. Corona, CA 92882
July 2007
We just wanted to send out a quick bulletin/blog letting everyone know that Tommy (who had played with aonhc from late 2003-early 2006) is back with all or nothing hc. Since leaving aonhc Tommy bought Vinyl Red Rehearsal Studios and still makes his custom SPC drums. The timing is right for him to rejoin. Having paid his dues with numerous national tours in the Astro Van, we are happy to have him go to Europe with us. We put his links up on the myspace, so you are welcome to contact him for business or just to say "hi."
We thank Miguel Recendez, from Social Conflict, for serving double duty in both bands. He saved our asses so we could do the last tour, and we won't forget that. We look forward to our bands playing shows together in the future. You can keep in touch with Miguel through www.myspace.com/socialconflictmusick and www.myspace.com/innocencelostrecords .
Jared should have the photos up on the www.allornothinghc.com site, from the DI show within the day so check back to see the pix.
July 2007
Thanks to everyone who came out to the Showcase Friday night (especially my past and current students…crazy…). It was an amazing show from start to finish. Final Solution played a very energetic, tight set. They had a sound that combined both punk and hardcore seamlessly, like the Unseen. The Latex Lads were thoroughly entertaining and always fun to watch. Hardslug dropped off the show. Lucky for us, the Broken Oars' guitarist had his own one man punk band called "Stash Black." He totally saved our asses, as our drummer was coming from LA. We played next. I cannot give enough high praises to our friends who came out and sang along. We had a blast playing and hanging out with everyone. It was a short set but one of my favorite shows that we have played. Broken Oars (WA) played next. They were very tight and had a "Hellcat Records" styled sound. DI finished up the show. DI always rule. Kasey could have a second career as a punk rock stand up comedian. If you didn't make it to this show, be sure to catch them the next time they headline the Showcase (Joe(case) said they had the distinction of headlining the Showcase 52 times, more than any other band….rad…).
We promise to play some shows while we're writing new songs for our next release. We'll post dates soon to let you know where we are playing next. Keep in touch until then. Jared, Ryan and I will be at Chain Reaction on Monday 7/30 to see Said Radio. If any of you were into the Nerve Agents, this is Eric's new band. They sound awesome so check them out on myspace, and maybe we'll see you at the punk show. ;)
June 2007
We just wanted to let everyone know that we are playing the Innocence Lost Records show tonight in Los Angeles: @ Innocence Lost Records Pad 2654 Newell ST. Los Angeles, CA 90039
The show is a celebration of the Rafa Recendez's life (6-22-89 to 10-31-06). Please come to the show in a peaceful/good times manner. Bands performing are: Social Conflict, Sin Remedio, all or nothing hc, Fatal Riot, Metal Morphisis, LA Chaos, & Decayed Forest. The show starts at 6 p.m. and is a low dough show at only $3. For more details see: www.myspace.com/socialconflictmusick.
There is a rumor that we are playing with DI this weekend, but that is news to me. I know that Joe Showcase is trying to add us to the Showcase DI show, as the Naked Aggression/Mouth Sewn Shut show was moved to Che Cafe in San Diego. Sorry for the confusion.
In other aonhc news: 1) we are writing new songs currently for a new cd, 2) we have a European booking agent now, Timo from Alerta Anti Fascista, who is booking a tour for us from Jan. 2 to Jan. 21 in Germany, Poland, Austria and more, and 3) Jen, from Emancy Punx Records, will be releasing an actual 7 inch record of our newer songs that we recorded with Paul Miner (that have yet to be released...). Both Alerta... and Emancy... are top listed in our friends. Please check out what they are doing because they rule.
I suppose that's it for now. We are looking forward to playing some shows this summer, writing and recording again. Keep in touch and thanks for reading this long bulletin.
April & May 2007
all or nothing hc tour blog
Before we hit the snow storm on the I80 East we actually played a few excellent shows. I mention as many band names as possible, so those who are so inclined can look the bands up and check them out.
4/28/07 @ 924 Gilman Berkeley, CA
Born Dead, Signal Lost (TX), A.D.T. (Joe Fucko's new band out of Fresno), Doing Life (Japan), all or nothing hc
We arrived early (even though we thought we'd be late). We wound up being the first band to play (which sucks but we're always stoked to play Gilman). For those of you who may not be familiar with 924 Gilman, it is an all volunteer ran collective started by Tim Yohannan (founder of MaximumRocknRoll magazine) in late 1986. Some of the first bands to play there were NOFX, MDC, Youth of Today, Operation Ivy, Christ on Parade, etc. Even my old band, He's Dead Jim played there (once with the mighty Tilt and AFI in 1995). The venue is the closest thing we have to a punk rock equivalent of CBGB's on the west coast. I suppose I could spend the entire blog writing about how excellent Gilman is but you can learn more about its history yourself by ordering the book 924 Gilman: The Story so Far… compiled by Brian Edge (order through www.maximumrocknroll.com ).
So on with the show blog. We played first, but lucky for us people showed up early. It was a blast. Next Doing Life, a three piece from Japan, played. We loaned them our amps and drums, as they flew out with only the basics. They were a great punk/rocknroll band. I wouldn't be lying to say that they were highly influenced by the Clash (as the singer/guitarist had a huge back piece tattooed of Joe Strummer). Doing Life was full of energy and enthusiasm. A.D.T. played next. I was stoked to see them because Joe Fucko is in their band. In the late 90's Joe had a three piece band called Fucko that I helped with some So. Cal. shows. He also played in Naked Aggression for a time. Before that he was in Strychnine. His new band reminds me of a really punk rock Motorhead. The next band to play was Signal Lost (from Austin, TX). They have a female singer and bass player. Comparisons are never right on, but they reminded me of a cross between late Tilt (which is more hardcore that pop) and the Avengers. The singer's vocals are very strong and melodic. Golnar (x-MRR) was traveling with them so it was cool to finally meet her. Born Dead was the last to play and are the hometown heroes. If you haven't seen them yet you should definitely go out of your way to do so. Actually, all the bands were worthy of that statement. Born Dead was extra cool because they refused to take any payment for the show so that all the touring bands could split the money. They didn't have to do that, as the headlining band, but it was really generous of them to do so. Another part of playing Gilman that is so cool is seeing people I haven't seen in a long time. I was able to see Mike (Oppressed Logic and Retching Red) again. I was sad not to see Cinder, but she was busy with her store so it made sense. I also ran into Joe (from the Fracas and Axis Records) and Amy (x-Dairy Queens, now in a band with Athena from 6 Weeks Records). We were also very lucky to have warm couches/beds to sleep in that night courtesy of Kyle (from Ringside Hollywood).
4/29/07 @ Langolier House Chico, CA
Gruk, all or nothing hc, & Mad Mom
We arrived into Chico to Rachel's house around 7pm. They bbq'd veggie burgers, vegan dogs, and vegan macaroni salad. Everything tasted super and the hospitality was great. We played some badminton with Shiloh, Rachel and Scribbles. The guys played some Guitar Hero. We arrived at the house show just in time (Langolier is Cody's house). Mad Mom played first. They have a female singer and are on the next On the Rag compilation. They're really good. Irene, the singer, has a sweet but screamy vocal style over some metal styled punk music. We played next. That house was so hot. We played in the dining room and there was a circle pit in the living room. It really was a fun show to play. Next Gruk played. It was their new bass player's first show. You couldn't tell though. Gruk is always amazing. They had a new song about the lack of pharmacies around the nation filling birth control prescriptions. This is a very important topic, so I was glad to hear her singing about it. The show was great and we're very thankful to Gruk and Cody for putting it together.
-Renae Bryant & all or nothing hc
4/30/07 @ SOHC (Southern Oregon Hardcore) House-Medford, OR
all or nothing hc, The Hollowbodys, & Blueprint for Disaster
We originally thought that our show was going to be at Fattys. We found a note left for us letting us know that the show had been moved the the SOHC house. The only problem was that we weren't sure where the house was. So we drove to the tattoo shop where Kimbo works, but it was already closed. We called Naked Aggression because they had just played there. They weren't around so next I called my friend Will (Happpy Bastards). He was able to confirm that I actually already had the address in my phone book. When we finally pulled up we were able to see that last two songs of the Hollowbodys. If there was ever a band to inherit the Cramps' crown, it would have to be this band (add just a dash of old Social Distortion/45 Grave and what results is the Hollowbodys). Unfortunately, we missed Blueprint for Disaster (which features Stacy from Akimbo). After watching two songs we asked to share equipment and jumped in and played. It was great seeing friends from the last show we played at Music Head. It was a fun show. Kimbo made us great vegan feast. They really treated us well. We hung out and then passed out.
5-1-07 @ Satyricon in Portland, OR
all or nothing hc, Dog Fight, Last to Surrender, & Grab the Camera
Somehow we were booked on more of a metal/screamo show. The bands were very talented, we just didn't exactly fit in genre wise. Lucky for us people stayed and watched us anyway. We also met some really cool people after the show. We all stood in the rain and discussed the pros and cons of the hardcore scene. We drove for a distance then slept in the reliable Astro van. Our next destination: Seattle, WA.
5/2/07 Mr. Spot's Chai House-Seattle, WA
The Nihilists, Sir Mark the Poet, all or nothing hc, Titillation Twins, KGB Suspect, & Enforcer
It took us awhile to find parking, as parking in Seattle is impossible (especially with a van and a trailer). We had to park far away and share equipment with another band. Enforcer played first. They were really good. KGB Suspect played next (they were an anarcho-punk band). Next two burlesque dancers performed. They were called the Titillation twins and sang on top of "I want Candy" by Bow Wow Wow. They got down to their pasties and undies. It was a little strange for a coffee shop, but hey what do I know. We performed after them. Nudity is such a hard act to follow. It was a blast though. It was a good show. We met some really cool people. Next Sir Mark the Poet performed. He did spoken word/rap over a music track. It was cool. After Sir Mark came The Nihilists. They had a great sound and performance that seems to be destined for Hellcat Records. After the show, Greg, the promoter, took us to Rich's (from The Nihilists) house. The guys played video games and I chatted with my new friend Kim. Kim is this awesome gal who loves gal fronted bands and hardcore as much as I do. We've both been into it as long as each other so it was cool to talk about bands like The Gits and 7 Year Bitch, as well as hardcore and sxe. She took the photos of the show that are on the www.allornothinghc.com photo section. It was a good time.
5/3/07 House Show-Boise, ID
Upinatem, all or nothing hc, & P9R
This was my birthday show. It was a strange birthday, spending thirteen hours of it riding in the Astro van. It was a relief to arrive to Boise, Idaho. We played a house show with Upinatem. P9R played first. They were very technical and had that Mars Volta feel to them. We played next. We played a very short set, making sure that Upinatem would be able to play before the cops came and shut down the house show. Upinatem played a satisfying set. After the show we drove two hours to Twin Falls and stayed with Seann and his wonderful family. The next day they made us some tasty breakfast, we were able to clean up, play with their son Dexter and see the bridge that someone had just jumped off of the Sunday before. Sean also took us to see some beautiful waterfalls too.
5/4/07 Brewski's- Ogden, UT
Fail to Follow, all or nothing hc, & AK Charlie
Before playing our show in Ogden (we do not usually play bars unless no other show is available for us…that being the case we had about three hours to kill), we went to Tinsletown (the local movie theatre) and saw Hot Fuzz ( I loved Shaun of the Dead so I had to see Hot Fuzz). It was good enough (though not as great as Shaun of the Dead). After the movies we got to the show. It was a crazy bar with two sides of drinking and smoking. The middle part was small bar size with tables and a stage. We played there. It was a bar show, so I will leave it at that. AK Charlie was a solid punk band in the vein of Pennywise. Fail to Follow set the show up for us. We had played with them two years ago in Utah with Ignite. They played a great set and were just as entertaining as I had remembered. When the show was over we slept once again in the Astro van. In the morning I woke up at 7a.m. I started the drive to Denver. If you do not know what happened on that drive, please read the very first blog I wrote after returning from tour.
Thanks for reading all of these blogs. Remember to check out the photos at www.allornothinghc.com . I also posted some interviews with different bands on www.ontherag.net .
-Renae Bryant & all or nothing hc
May 9, 2007 Snow in May? [Teacher Appreciation Day]
We are posting this news to let everyone know what happened to us a few days ago and why we were not able to complete the second half of our tour.
We left Ogden, Utah at 7 a.m. to make the drive to Denver, CO. I was actually the first to drive that morning. I got a hour and a half into the I 80 East (Wyoming) when snow started falling. The further I drove the worse it got (as we had no chains and were driving in an Astro van with a trailer). I am not a fan of the snow and have never driven in it (Josh and Tommy, x-aonhc, always took responsibility for those drives...while I hid under a sleeping bag). I considered exiting to the town but didn't want to be a wuss. The snow got worse and everyone else was asleep. Finally, my visibility was crap and the windshield wipers were covered with ice. Needless to say I wasn't stoked. I finally pulled over and relinquished.
Since I was freaking out Jared took over the drive. He drove for maybe ten more minutes until traffic completely stopped. We saw that many big rigs and other vehicles were pulling over. We weren't sure what to do so we just pulled over too. It turned out that the I 80 E. was shut down. We sat there for what seemed to be an eternity, while I had visions of aonhc being the next episode of "I Shouldn't Be Alive." Finally, some fellow travelers told us that they were doing to back down the highway, exiting the nearest exit and going back to the closest town. Jared had to back up the van and trailer down the highway to the closest exit (which was not an easy task). We doubled back to Evanston, WY, (after of course almost hitting the vehicle in front of us and then getting stuck in the snow on the exit and having to dig ourselves out). This tiny drive back was just as frightening (remember...no chains and a trailer attached to an Astro van going down hill). When we got to the town we decided to get a hotel room and re-evaluate the tour.
The I 80 E. was shut down, and it was the only route to get us to the show on time. The next show after Denver was another eight hour drive. This put us 16 hours, not accounting for the weather, behind schedule. We had to get a hotel as we didn't have chains. We have toured many times in May and never encountered a snow storm. We could not have anticipated that this would happen. We had to cancel the remainder of our tour as a result of the weather and the route we chose (through snow storms, flooding and tornadoes). When we woke up the next morning the I 80 E. was still shut down. We figured we made the safest decision. We never want to put the desire to play a show ahead of our band member's safety.
We once again apologize to all of our friends, the bands, the promoters, the clubs and anyone else who helped with the shows in any way or were planning on supporting them. We hope you will forgive us and still support us in the future.
We do plan on buying chains before we tour again. Global warming definitely makes touring a little more unpredictable.
Thanks for your understanding. The first part of our tour was excellent. I will bulletin and blog on that some time today. So please look for that one, which will contain happier, less dramatic tales of the road.
-Renae Bryant & all or nothing hc
April 22, 2007 Earth Day!
Jeanette Moses of Slug Magazine (Utah) put together a really cool interview/article on On the Rag and all or nothing hc. You can check it out at www.slugmag.com.
Next weekend we leave for tour. Thanks again to our new friends in Social Conflict who are letting us borrow their drummer, Miguel, for two weeks. You can check them out www.myspace.com/socialconflictmusick . Our first date is Gilman. We hope to see as many of you as possible at the shows. The following is our list of dates:
All or Nothing HC Tour Dates:
| | |
| --- | --- |
| 4.28.07 | 924 Gilman St., Berkeley, CA w/ Signal Lost, Born Dead & more |
| 4.29.07 | The Langolier, Chico, CA w/ Gruk & tba |
| 4.30.07 | Fatty's, Medford, OR w/ The Hollowbodys |
| 5.01.07 | Satyricon, Portland, OR |
| 5.02.07 | Mr. Spots Chai House, Seattle, WA |
| 5.03.07 | Myrtle Morgue, Boise ID w/ Upinatem |
| 5.04.07 | Brewski's, Ogden, UT w/ Fail to Follow |
| 5.05.07 | Monkey Mania, Denver, CO |
| 5.06.07 | The Anchor, Kansas City, MO |
| 5.07.07 | The Vaudeville, Des Moines, IA |
| 5.08.07 | Castle Greyskull, Minneapolis, MN |
| 5.09.07 | The Basement , Madison, WI |
| 5.10.07 | Champs Rock Room, Chicago, IL |
| 5.11.07 | Bernie's Distillery , Columbus, OH w/ Downtrodn |
| 5.12.07 | Melody Inn , Indianapolis, IN |
*Visit the myspace for updates on who we are playing with.
January 17, 2007:- NEW SHIRT DESIGNS AVAILABLE NOW!!
We just got back from playing a couple dates out of California. We normally "tour" longer, but the two days in freezing January seem to be quite fine. Friday we played The Phix in Pheonix with The Prosthetics, What's Left, My Doll, and Last Resistance. All of the bands were great that night. Special thanks to Lee for doing punk shows at his venue, Gerson (sp.?) from The Prosthetics and Liz for letting us crash on their floor (ensuring that we wouldn't freeze in the Astro Van), the bands for playing and promoting the shows, and everyone who came out to support the show. Saturday we played El Paso, Texas. We had played El Paso before, but this was our first time playing Chix. Dead Girls Productions/Ana did the show for us. We played with Ruthless Boiz, TV Trash KILL, and Lost Causes. Once again the bands were solid. Ana took very good care of us. Special thanks go out to Ana and her family, the bands for playing and promoting the show, and everyone, including all the other bands, that came out and supported the show. It was a super fun but bizarre show that included me shoving the guy's head, who kept yelling at every band to play Blood for Blood, into my sweaty crotch (he didn't say much after that). This was also the first time that someone bit me as I was going back on stage, from the pit. This punk rock girl took a hold of my leg and bit me like she was a cannibal or a zombie. I currently have a f-ing bruise that matches her teeth on my thigh right above my knee. Since I seem to collect bruises in the pit, I documented this one with a photo. We'll be sure to post it for everyone's amusement later. I'm into erotic biting but not "tear the flesh off my body" biting…for future reference. That was just weird. Besides the bite, these were awesome shows. If you have the time and want to check out some "new" bands search the bands we played with out on myspace or google. It will be worth it.
We are still searching for a second guitarist. Our next show (at this moment) is on Sat. Feb. 10, 2007 at the RMC ( Rialto Music Center) with Naked Aggression, No Reform, Malice of Forethought, Social Conflict, Walking Toxins and more at 225 S. Riverside Dr. Rialto, CA 92376. www.myspace.com/socalrmc for directions. The show is all ages, $8 with flyer and starts at 6 p.m.
Quite some time ago I sent out a bulletin letting everyone know that we were going to be on a couple compilations out of England. I just got them in the mail. We had a song on Kamikaze Broadcast Vol. 1 www.nofrontteeth.net and a video included on the dvd Dance Hall Troops Vol. 2. This dvd package includes a dvd featuring four hours of "pure raw punk chaos and skate mayhem" and another 42 track cd compilation. This is available through www.nofrontteeth.net and www.dogpilepunx.com .
Thanks for taking the time to read this. See ya' at the punk rock show.
-Renae Bryant
January 3, 2007:
Happy New Year to everyone. We are doing a quick little weekend road trip to play with new and old friends. If you are in the area for either of these dates come out and hang out with us.

Friday 1/12/07
Last Resistance
What's Left?
My Doll
aonhc
Prosthetics
@The Phix
1113 NW Grand
Pheonix, AZ

Sat. 1/13/07
Lost Causes (our good friends + an amazing band)
aonhc
& more tba
@ Chic's Cantina
9809 Montana
El Pasa, TX

Hopefully we'll see you at the shows, if not maybe we'll see you the weekend of the 19th in Vegas.
-Renae Bryant,

p.s. We posted some new photos on the myspace site that accurately reflect our line-up. Thanks again to everyone who came out to support all the Mouth Sewn Shut dates!


August 12, 2006:
We are playing tonight, August 12 at the Allen Theatre in South Gate, CA with the Skeptix, Neon Maniacs, All Out Attak, Homesick Abortions, and Downright Aggression. Please try to get there early because it will probably sell out.
We have also added two local shows before we head out on tour...August 26 @ Back To The Grind in Riverside, CA...it's a benefit for the Jeffery Owens Community Center and it's only $5. Also, we will be playing the 3rd Annual Women in Punk, Crust, and Grind Fest at the Showcase Theatre in Corona, CA on Thursday, August 31.
And for our upcoming, "All of These are the Days of the Dead" Tour.....
July 30, 2006
We will be heading out on tour again in September. Most of the dates are booked and they are now posted in the Shows section. We will have a bigger update posted here shortly. See you at the shows!!
July 30, 2006
We will be heading out on tour again in September. Most of the dates are booked and they are now posted in the Shows section. We will have a bigger update posted here shortly. See you at the shows!!
July 3, 2006
all or nothing hc is currently featured as the "Band of the Week" in the June 29-July 5 issue of the IE weekly. Rich Kane wrote an insightful piece which you can read at www.ieweekly.com/music. Scroll down past the excellent article on the Skeletones to find our feature. I was also fortunate enough to be interviewed by Justin with Church of Girl. He asked some very thought provoking questions. You can read this exchange at www.churchofgirl.com/interviews .
Click here for the .pdf issue of IE weekly
We hope to see you at the Pomona Warped Tour date, on Friday July 7, 2006. We will be playing the "Gritty in Pink" stage, featuring all female fronted bands (Naked Aggression, Shiragirl, and more). You can find out more information about the stage at www.myspace.com/grittyinpinkstage , www.grittyinpinktour.com , or www.warpedtour.com . Try to get there early, as many of you know the stages don't announce band set times until that morning. Last year I regretfully missed the Horrorpops by arriving to the Pomona date at 2pm instead of 12pm. Don't make that mistake. Finally, thanks again to everyone who came out to the Cheap Sex, all or nothing hc show at the Allen Theatre last Saturday. It was a great first show for our new line-up. Thanks to all the punks who stood up front singing along and got in the pit with me. It was a super excellent time!
See ya in the dirt pit in Pomona!
-Renae Bryant,
all or nothing hc
June, 2006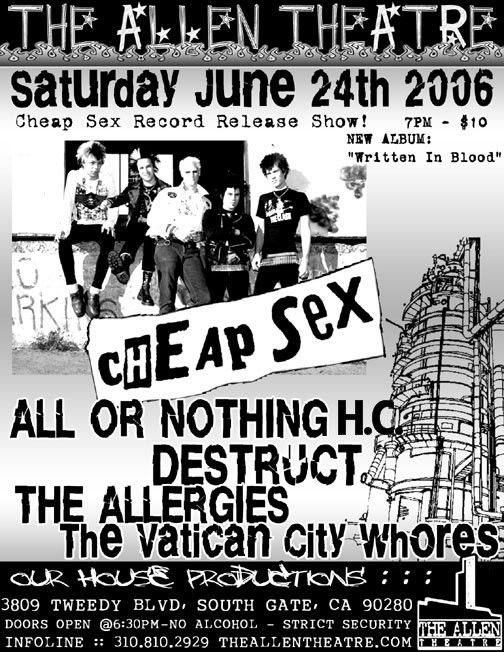 First of all, we'd like to introduce Tiger and Natalie to everyone. They are the newest additions to the band. Tiger plays drums and Natalie will be the rhythm guitarist. Add them to your friends list and stop by to say hello...Also our friend Clint, from the Misguided, will be filling in on lead guitar for the time being, check them out and add them also.

WE ARE STILL LOOKING FOR AN EXPERIENCED AND GOOD LEAD GUITARIST SO IF YOU KNOW OF ANYONE PLEASE SEND THEM OUR WAY!!

So here we are at the beginning of the summer and we have no shows booked...until now!! That's right, be sure to check out our myspace page and/or website for the most up-to-date info as we add more shows. Right now we have two confirmed and here they are...

Saturday, June 24 @ The Allen Theatre-South Gate, CA
w/CHEAP SEX (CD Release), Destruct, and more. Get there early as the show will probably sell out. If you would like to help us promote post the flyer on your friends pages...
Friday, July 7 @ Pomona Fairplex, Warped Tour- Pomona, CA
We are playing the Gritty in Pink stage with Naked Aggression, Shiragirl and many more female fronted bands. In case you didn't know (because maybe you live under a rock...) The Casualties, Anti-Flag, NOFX and many more will be playing various stages.
Daniela, from The Pandemonium Project, wrote up a great article on our band. Clitocore has also published an interview with us. Please support both of these foreign zines/projects by checking them out in our top 8. We are currently working on answering some questions for Church of Girl and appreciate all the support we get. So show the love and support them by adding them and telling others about what they are doing.
Finally, I just saw the add for the "Brides of Electric Frankenstein" Compilation that we are a part of. The add was on the back of the lastest issue of Varla Magazine. It looks as though www.varla.com and www.conform2.us are are partnering for its release. The cover art is fantastic, pure EF style. We do a hardcore version of "The Mess." It was cool to be included on this project. Other bands involved were: Civet, Texas Terri, Dragster, Ms.45, Shockbox, Thee Merry Widows, The Swanks City Mouse, The Dames, Armagetition, & The Malamondos.
And coming this September...we plan on covering much of the U.S. as we hit the road once again. Keep checking back for more info.

May 6, 2006
Next Saturday, May 13, 2006 we will be making the eight hour drive to play with our friends Naked Aggression, Retching Red, Oppressed Logic and more at 924 Gilman St., Berkeley. The show is also a b-day celebration for Cinder Block, if you're there you must give obligatory birthday wishes to her! :). Hopefully, we will see those of you who can make it there.
In other aonhc news we wanted to let everyone know that Josh, our guitarist, is moving to Boston before the summer is over. As a result of his decision we are looking for two new guitarists. Tommy has also decided that he does not have any more time to give to the grunt/shit work that being in a band requires. So...we are also looking for a new drummer. We've spent two-three years with both of them and have amazing and funny memories from that time. It is difficult to part ways. This is not a first for all or nothing hc though (perhaps our name jinxes us). We always pull it together. We will this time too. Saturday's show will be the last with this line-up.
Please feel free to add both Josh and Tommy to your friends' list. I know that they would love to keep in touch with all the friends they've made from playing and touring. We know both of them will continue playing and be very successful. They will not be easily replaced, in fact I know it's going to be a big pain in the ass.-Renae Bryant, all or nothing hc/ on the rag records
P.S.-We also received copies of an all female fronted band compilation that two of our songs are featured on straight outta' Poland. Comps take so long that by the time the label sends you them, you've completely forgotten you were even involved with them. I know this from experience on both ends. This was a great surprise. The comp. is really fantastic. Bands from all over the world are featured for a total of 21 tracks. It was put out by EmancyPunx Records ( www.emancypunx.com ). We love being a part of something super cool, and this qualifies. Please go to their website and check it out! We are sorry to say that we do not have any copies to sell at this point.